Breadcrumb
Go to My Basket Section
DJI Phantom 4 Drone
SAVE £30.00
£919.97
inc. Vat
In Stock for Home or Work Delivery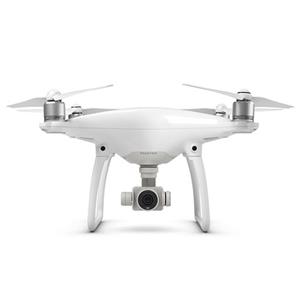 DJI Phantom 4 Drone
The DJI Phantom 4 is a beautifully designed, easy-to-use, intelligent drone with a magnesium core to increase stiffness and rigidity without compromising weight. Features include front obstacle sensors, a 12 megapixel camera, integrated gimbal, 4K video shooting at 30fps and slow motion 1080p at 120fps, multiple flight modes including TapFly mode so you can fly the Phantom 4 with a tap on your smart device and a new Sport mode and much more.
DJI released the Phantom 4 Pro, an update to the Phantom 4. The Pro boasts a better camera, more advanced obstacle avoidance, greater battery life, and additional intelligent flight modes.
Find out more click here
Revolutionary Materials and refined aerodynamics
A new, specially designed, magnesium core increases the stiffness and rigidity of the Phantom 4 without compromising weight. Working in tandem with the battery, it lifts the center of gravity closer to the level of the props which increases agility and responsiveness. This is all placed within a sleek and aerodynamically efficient shell.
Fly with Tap
Flying is easy for everyone. Double tap the screen to fly. An Obstacle Sensing System keeps the Phantom safe as it goes, and Smart Return Home returns it to you more safely.
Visual Tracking
ActiveTrack lets you track a subject automatically, no band or beacon required, with obstacle avoidance keeping the Phantom clear of objects. Moving POI lets everyone shoot previously impossible shots.
Extended Flight Time
Advanced propulsion systems, highly integrated and more streamlined design combined with a larger capacity battery gives the new Phantom 25% more effective flying time.
Intelligent Flight Positioning
The Phantom 4 connects to both GPS and GLONASS, allowing it to connect to satellites faster and position itself with extreme accuracy in the air.
Sport Mode
A brand new Sport mode brings responsive controls and the thrill of speed everywhere. An integrated gimbal and new battery positioned to move the center of gravity close to the aircraft's core combines with raised motors that increase torque reaction, and a reliable flight control system which precisely controls the aircraft's movement to make flight at high speeds safer.
High Performance Camera
Shoot sharp, clean video in up to 4K at 30fps and Full HD 1080p at 120fps for slow motion, through a newly designed lens that dramatically increases sharpness.
Professional Post Production
A range of video colour profiles are available to help you get the look you want easily, from bright vibrant colours to professional flat profiles including D-Log and Cine-D that are ready for video post-production. Photographers can shoot images in 12 megapixel Adobe DNG RAW.
Integrated Gimbal
An advanced 3-axis gimbal takes out unwanted vibration and movement in-flight, enabling the camera to capture smooth and fluid footage even during complex maneuvers.
Avoid obstacles automatically
Track moving subjects automatically using ActiveTrack
TapFly lets you fly with a tap of the finger
Smart Return Home allows the Phantom to avoid obstacles as it returns home
28 minute maximum flight time, maximum control range of 3.1mi (5km)
Maximum speed of 44mph (72kmh)
Integrated gimbal for greater camera stability and smoother footage
Optimized Vision Positioning System raises positioning altitude up to 10 metres
Camera Megapixels
12 megapixels
Camera Movie Mode
4K 25p, 1080p 120fps
Max Flight Times
Approx. 28 minutes
Finance Payment Option
Instant decision - instant despatch.
Buying the items you want just got easier, simply spend over £299 and you can spread the cost using our instant Finance facilities with Interest Free and Interest Bearing options available. Minimum deposit 20%.
Representative Example of Finance
You can calculate an example of your payments below depending on your preferred deposit amount. This is an example and you will be asked later in the checkout process to confirm your deposit again.
Applying for online finance
Applying for online finance couldn't be easier or more convenient. Once you've chosen the products you'd like to purchase, simply complete a brief on-line application form accessed via the 'checkout'. Just follow the simple instructions, entering your personal details as required and we'll do the rest.
Once my application is approved, what happens next?
Within minutes of your application being approved, you'll be asked to accept the terms of the contract – once you select YES you will return to the checkout and will proceed through to the completion of your order following which your order will be dispatched for home delivery. Following completion, you will receive an email with a link to download a copy of your credit agreement for your records.
Shipment of your goods will follow as soon as your agreement has been returned to our finance company (usually on the same day).
For more information on our finance payment option please click here for terms and conditions.
Our dedicated team of experts are here to help find the right photographic and video equipment for you. Jessops can give the advice and training to take, print and share your perfect photograph.